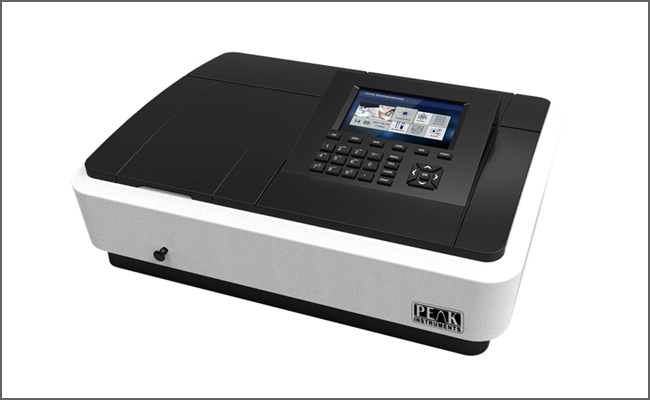 Peak Instruments Inc. USA
UV-VIS Spectrophotometer
Steady, modern and elegant appearance design. Adopt the newest microcomputer technology and electronic control system. Optimized optical system and structure can both extend new functions and ensure the accuracy, stability and durability.
7 inch color LCD screen and long life, more comfortable and sensitive silicone buttons. The instrument can show various scanning curves and charts for users to complete various tests without computers.
Support USB storage and different data formats such as Excel, txt and image(PC software). Users can output test data to flash memory, open and edit them on computers directly without any auxiliary software
Advanced hardware and 32-bit Cortex_M3 processor with the clock speed 120MHz. The equipment can store 5000 pieces of data and 500 curves.
High-efficiency holographic grating of 1200 lines/mm and low stray light
The equipment has long-life socket type tungsten-halogen and deuterium lamps which can work up to 2000 hours, can switch the lamps according to test needs and record its working time automatically. Socket type lamps make the replacement much easier
Excellent silicon photodiode can guarantee the equipment is highly sensitive and stable.
Huge sample chamber and various accessories can meet all kinds of needs.
Can be connected to printer directly and output test charts and data.
Powerful PC software.
Standard RS232, USB(A), USB(B) port for printer, data transfer and PC connection.
---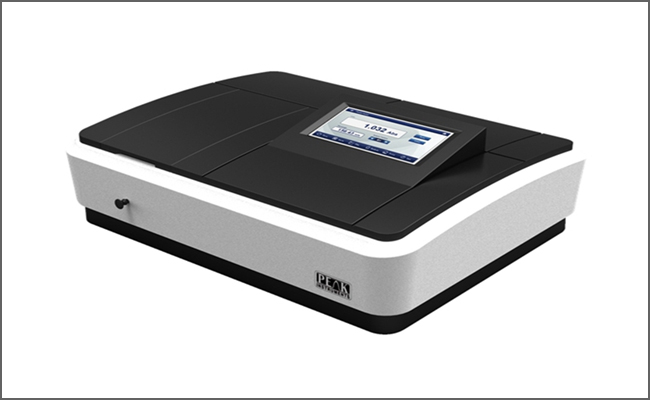 Peak Instruments Inc. USA
Touch Screen Spectrophotometer
Excellent optical system, high level mechanical system, advanced circuit control system, rigorous production process, friendly and intuitive software interface, good technical specifications, stable and reliable performance can meet the analysis requirements from high level and professional customers.
Main Features :
Appearance and internal structure
Modern and elegant appearance, extendable design, separate structure design for optical and circuit system can efficiently avoid the loss of photometric energy.
Convenient and intuitive operation interface
This series has 7-inch high resolution color capacitive touch screen and newly developed UV-SUPER2.0 software with strong functions, which make the operation simple and easy.
Excellent performance and stability
Totally enclosed monochromator and optical mirror coated with SiO2 guarantee the optical components are not influenced by gas and environment.
Features :
Philips and Milas lamps
Newly improved screw pole drive structure makes good wavelength repeatability and high wavelength accuracy
Totally new design, superior materials and rigorous production process
Advanced photoelectric test system
32 bit ARM11 microcontroller with clock speed up to 533MHz
20 bit analog digital device specialized for photoelectric data collection and processing from BB company.
Support internal data storage(32M) and external USB storage
Simple and convenient maintenance
Socket type lamps make the optical adjustment not necessary and maintenance much easier.
Separated Optical and circuit system has no cross influence and make the instrument more reliable.