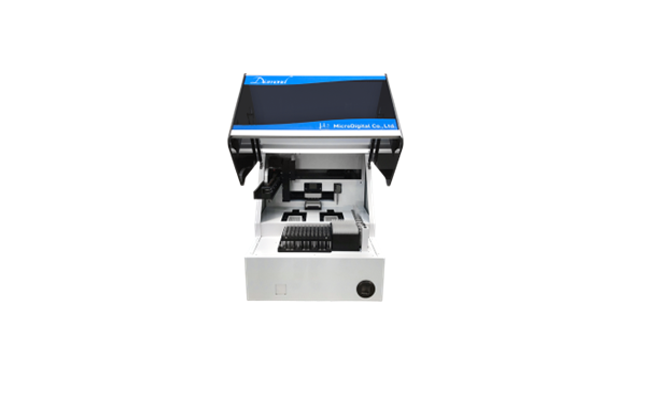 Micro Digital Co., Ltd. Korea
Fully Automatic Immuno –Analyzer
Diamond is the perfect solution to efficiently carry out immunoassays with superb precision and accuracy. Diamond maximizes the lab throughput by full automation of all steps and stages required in microplate immunoassays including sample loading, reagent handling, washing, incubation, shaking and reading. In addition, multiple assays can be processed at once, saving time and manual labor. Moreover both ELISA and CLIA can be performed within one system
Features and Benefits :
Fully automated immunoassay system.
Zero carry-over by using disposable tips for liquid handling
Level sensing for samples, reagents and washing solutions.
Multiple assays can be performed in one run.
ELISA and CLIA platform in one system.
Serial pipetting to optimize the speed of the assay.
Fast and accurate movement with great repeatability.
Variable fittings to accommodate any bottles or tubes.
8 manifold needles and washing point adjustment control.
Simple and intuitive User interface.
Wide range of customizable settings for optimum flexibility.
Universal open platform ( Custom platform available)
---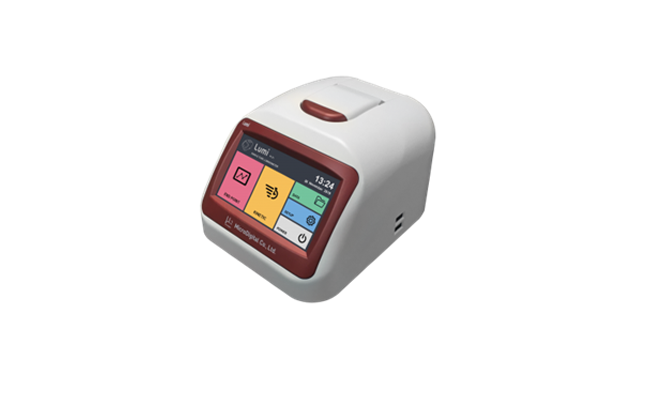 Micro Digital Co., Ltd. Korea
Single Tube Luminometer
Lumi - Single Tube Luminometer – is convenient with its compact design and a 7.0" touch-enabled LCD screen. Its embedded PMT technology precisely measures light emitted from chemiluminescence reaction. Data can be easily backed up using a USB flash drive.
Features and Benefits :
Compact size and simple to use :
Compact size takes up only a small portion of your lab
Easy protocol setup by touching 7.0 inch LCD
Measurement data display and archiving through the touch LCD
Light Measurement :
Luminescence measurement by PMT
Limit of Detection : 1 x 1018 moles of ATP
Liner dynamic range : 7-log
Convenient Maintenance :
Easy to maintain hygienic condition
Simple data backup and software upgrade
User Interface :
Available detection modes : End-point & kinetic detection
Available setup variables : Integration time, Delay time , No. of runs, and Detector (PMT) Sensitivity control
Easy to backup data using USB drives ( Up to 60,000 data)
---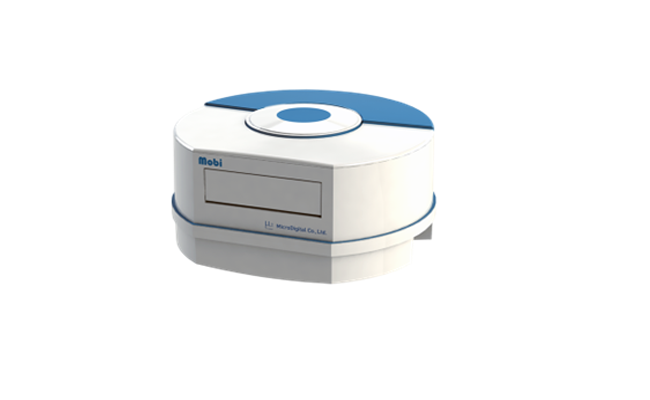 Micro Digital Co., Ltd. Korea
Microplate Spectrophotometer
Mobi is a monochromator-based microplate spectrophotometer, quantifying nucleic acids, proteins, cell-based samples to ELISA results, measures wide range of samples fast and precisely. Wide range of wavelengths from 200 nm to 999nm allows various field applications.
Product Introduction :
Mobi features monochromator-based measurement optics to offer a wide range of wavelengths from UV visible spectrum.
The cutting-edge technologies and system structure in Mobi allow precise movement and detection.
The system support measurement on 6 to 384 well microplate.
Product Design:
The system offers various measurement modes : End-point, Spectral and area scanning , Kinetic ,etc.
In addition to the measurement, the system can carry out various supportive functions : shaking, incubation , measurement monitoring , delay , etc.
Light weight, compact size and distinctive shape make the device easy to transport and relocate.
Software :
Separated sequence protocols, layout allow the user interface to achieve great flexibility and simplicity in setting, editing, and executing the measurements.
Graphical presentation of data allows users to analyze the results with convenience and efficiency.
The measurement data can be exported as simple charts or full report in Excel sheets, PDFs, other formats.
---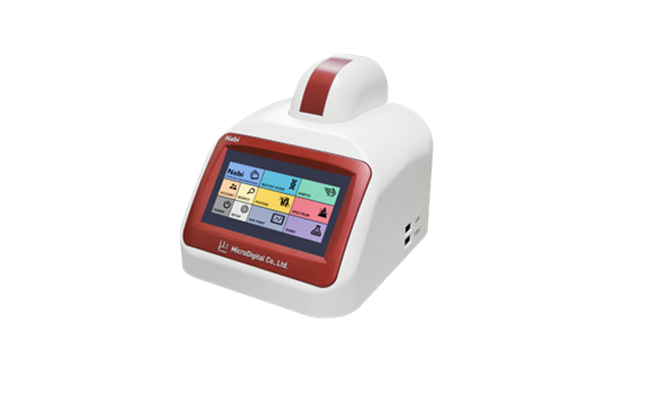 Micro Digital Co., Ltd. Korea
UV/Vis Nano Spectrophotometer
Nabi – UV/VIS Nano Spectrophotometer can conveniently read samples in cuvette or micro volume, and also receive results from single wavelength and full spectrum Nabi is a standalone instrument which utilizes 7.0 inch touch-enabled LC. All data can be transferred to PC just with a USB.
Variety & Precision in Detection :
End-point and Kinetic mode in Detection
High-speed Spectrum Reading ( 5 seconds) Accurate detection ( less than±0.002)
Wide range of Wavelength Detection with Cuvette
Nano Volume Sample Measurement (Nucleic Acid/Protein)
High Repeatability in Quantitative- Measurement for Nucleic Acid
Simple & Light in Design
Compact size and Light weight
Easy operation and Minimized steps for measurement and analysis
7.0 Inch Touch LCD
Quick Boot – No lamp warm-up time
Stand –Alone – Perform all functions without PC
Result Analysis
Single Wavelength/Spectrum Selection.
End point/Kinetic Mode Selection.
Quantitative Measurements for Nucleic Acid, Protein, and etc.
Cell Concentration.
Simple Data Back up and software Upgrade via USB Flash Drive.
Easy to confirm the result via Graphical presentation.
---