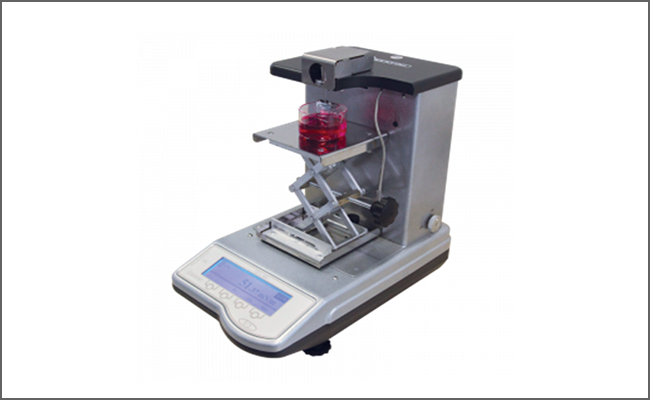 Gibertini Elettronica S.R. , Italy
Digital Surface Tensiometer- DCA
GENERAL FEATURES
Display of surface tension value expressed in mN/m (dyne/cm) measured with the Wilhelmy method
Precision: ± 0.02 mN/m (dyne/cm)
Capacity: 1-1000 mN/m resolution 0.01 mN/m
EQUIPMENT
Manual adjustable lab jack
Thermometric probe PT 100 1/3 DIN:, temperature range: 0-50°C, Accuracy: ±0.05°C, Readability: 0,1 °C
Glass plates (dimensions 24x24x0.15 mm)
Suspended system for the arrangement of glass plate
Glass container for liquid sampleAccessory
---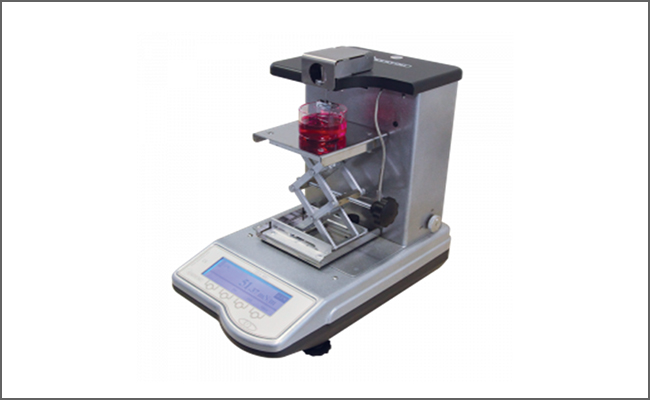 Gibertini Elettronica S.R. , Italy
Digital Surface Tensiometer- DCA 400
Specification
Display of surface tension value expressed in mN/m (dyne/cm) measured with the Wilhelmy method
Precision: ± 0.02 mN/m (dyne/cm)
Capacity: 1-1000 mN/m resolution 0.01 mN/m
EQUIPMENT
Glass plates (dimensions 24x24x0.15 mm)
Suspended system for the arrangement of glass plate
Glass container for liquid sample
manual adjustable lab jack
Software with the following performances:

contemporaneous display on PC:
force changes during the measurements
past time
surface tension value
data recording (useful for other elaborations)
changing value of perimeter plate (if different from the standard)

Automatic jack with programmable speed (from 21 to 1000 μm/s)
ACCESSORIES INCLUDED
Platinum Wilhelmy plate
Platinum Du Nouy ring
Floater calibrated in weight and in volume and double wall cylinder for density measurement:

range of measure for the density: 0.5 ÷ 2.25 g/cm³
readability: 0.00005 g/cm³
precision and reproducibility: ± 0.00005 g/cm³

Specific container for sample thermostatation
Special plate for metrological control
---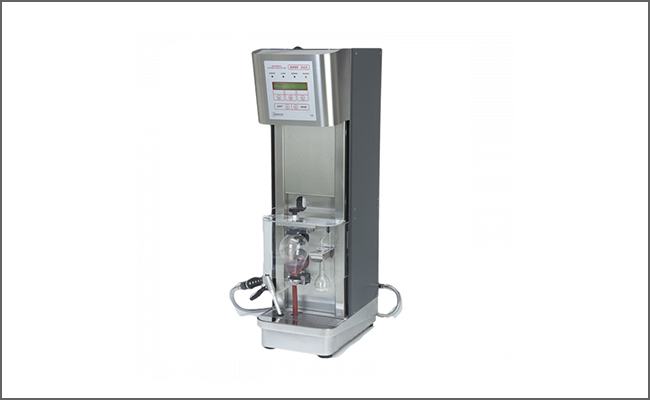 Gibertini Elettronica S.R. , Italy
Digital Distilling Unit- Super Dee With Or Without Vade
In compliance with the official methods for the determination of the alcoholic strength by volume in wines, musts and spirits (Regulation OIV) and of the volatile acidity.
COMPLETELY AUTOMATIC INSTRUMENT that allows to obtain a distillate of wine, spirits, scents or other alcoholic solutions to determinate alcoholic strength by volume.
INTEGRATED STEAM GENERATOR directly connected to tap water, with user replaceable demineralisations column (autonomy 100 litres – approximately 400 analyses of volatile acidity). There is no more need of distilled water. After the distillation the instrument automatically locks to avoid any waste of water.
Available also without generator (mod. SDEE/SV).
EXECUTION TIMES
Distillation of wines: 100 ml in 3÷4 minutes – 200 ml in 6÷7 minutes
Volatile acidity: 250 ml in 6÷7 minutes
Distillation of spirits: 4÷8 minutes
---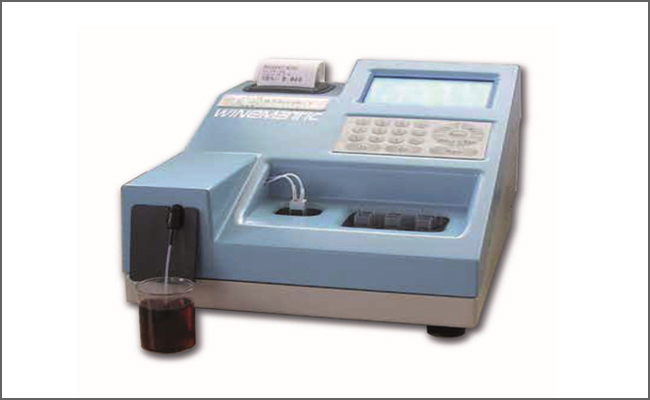 Gibertini Elettronica S.R. , Italy
Winematic
Multiparametric Analyzer For Oenology for proper control of the vinification processes. Already programmed methods in the software : ACETIC ACID, L-MALIC ACID, L-LACTIC ACID, D-LACTIC ACID, D-GLUCONIC ACID, CITRIC ACID, TARTARIC ACID, PYRUVIC ACID, AMMONIA, α-AMMINIC NITROGEN, ACETALDEHYDE, GLUCOSE+FRUCTOSE, GLUCOSE , GLYCEROL , SO2 FREE, SO2 TOTAL, CHLORIDE, MAGNESIUM , IRON (IONIC), CALCIUM (IONIC), COPPER (IONIC), POTASSIUM, ANTHOCYAN, CATECHINS, TOTAL POLYPHENOL (Folin-Ciocalteus) , TOTAL POLYPHENOL INDEX (IPT at 280nm) , COLOUR (420 – 520 – 620 nm), SUCROSE, UREA