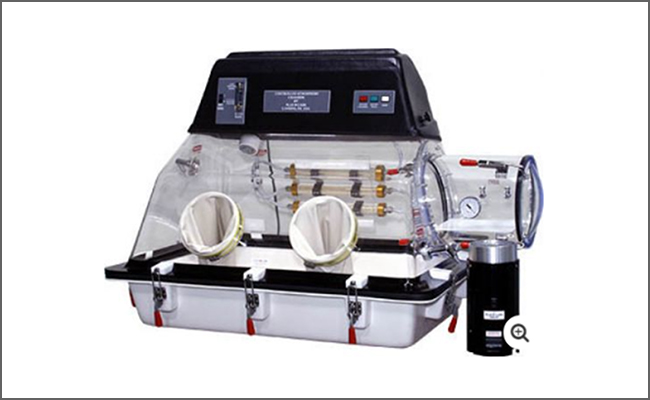 PLAS-LABS, INC, USA
Anaerobic Chamber
The 855-AC (Anaerobic Chamber) has been designed for manually controlling your atmosphere when working with Oxygen sensitive materials. It is perfect for working in situations requiring low levels of Oxygen during critical isolation of the operator or your research materials. Any inert gas may be used.
Its main advantage is minimizing the risk of Oxygen entry into the main working chamber. If trace amounts of Oxygen happen to enter the main chamber, the Catalyst Heater reduces it to water vapor. The drying train can then be activated to remove any excess water vapor.
The 855-AC is offered as a complete system ready to use. There are no other components required. All you need to add are your work samples and gas of choice.
This glove box has a capacity of 348 culture plates when using our suspended shelf accessory. Please refer to the Accessories Section (800-SHELF-1).
---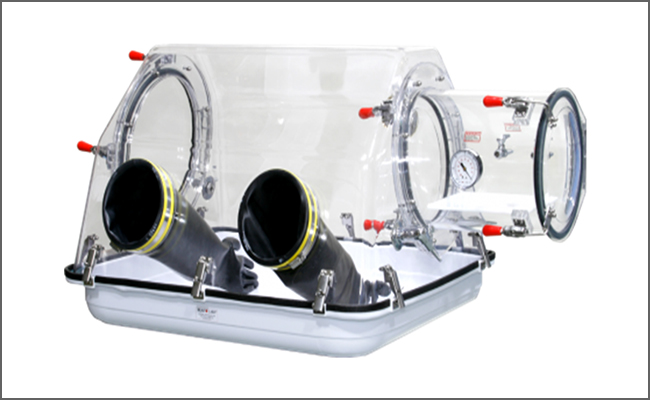 PLAS-LABS, INC, USA
"La Petite" Glove Box 815-Series
The #815-PGB "Petite Glove Box" is comprised of essentially two (2) components. The top and bottom sections are sealed using a revolutionary new gel system commonly used in the clean room industry for sealing HEPA filters.
Features :
Lightweight and easy to move from lab to lab.
Optically clear, one piece formed top is unbreakable.
Bright white one piece bottom formed out of high temperature Noryl™ and has "easy clean" corners.
Large access door (12" inch Ø [305 mm] opening).
Vacuum gauge on transfer chamber.
All stainless steel clamps are adjustable and have security locking capabilities.
White leveling tray for transferring liquids.
Modern, Gel Sealant (Refer to Gel data below).
Large, interior Rh gauge.
Four (4) ground key cock valves for purging and gas entry.
Hospital grade multiple electrical outlet (socket) strip.
Latex gloves 7ӯ (175 mm). Neoprene or HypalonTM also available (Special order).
Transparent and vacuum capable transfer chamber size 10"long (254 mm) x 9.75"I.D (245 mm).
---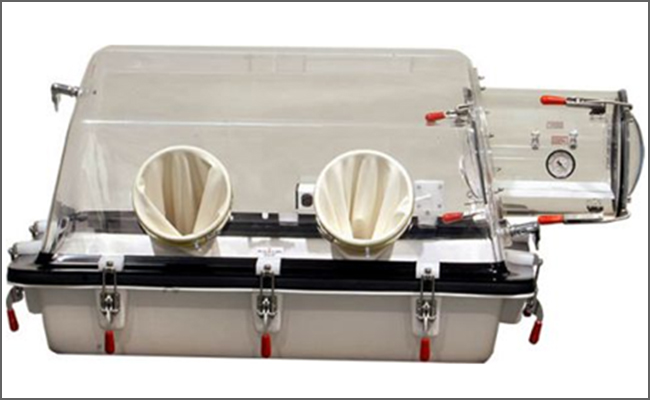 PLAS-LABS, INC, USA
"Basic" Glove Box 818-Series
#818-Series style glove boxes are designed to be just what they are named, "Basic." This is a simple enclosure that can be used for general isolation or containment work. They are very useful for isolating sensitive research materials from a hostile exterior environment.
Features :
Optically clear, one piece acrylic top.
Matched die molded thermoset, bright white bottom (818-GB only).
Coved, easy to clean corners with no hidden dark spots.
Double layered, closed cellular neoprene gasketing system.
Ambidextrous, white Hypalon gloves for superior chemical and U.V. resistance.
Adjustable vacuum gauge on transfer chamber. Four ground key cock valves for purging.
White leveling tray for transferring liquids through the transfer chamber.
Stainless steel "0" rings for gloves.
Transparent transfer chamber 12" long by 11" diameter (l.D.).
---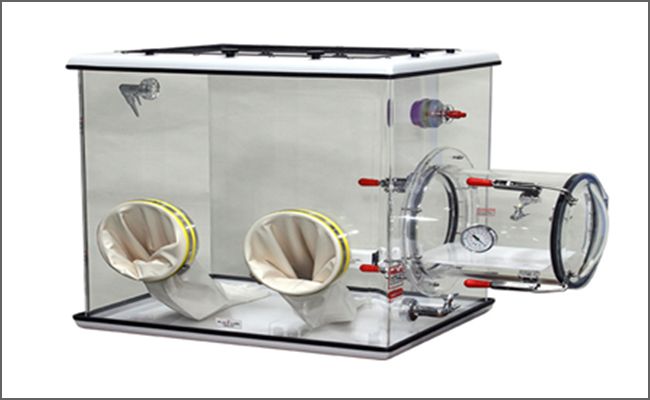 PLAS-LABS, INC, USA
830-Series "Compact" Glove Box
Compact glove boxes are available in four (4) user friendly sizes. They are excellent for use in hazardous situations where materials to be weighed must be contained. The chamber is ideal for determining the dry weight measure or moisture content of aqueous solutions, adhesives, cereals, toxic chemicals, pharmaceuticals, paper, plastics, and light radio active materials. All units minimize product degradation caused by moisture absorption.
Features :
Clear acrylic plastic main body (3/8" [10 mm] thick).
Removable top section for easy installation of equipment.
Two (2) key cock valves for purging.
All clamps adjustable to compensate for normal wear.
White ambidextrous Hypalon™ gloves for superior chemical and U.V. resistance.
Hospital grade multiple electrical outlet (socket) strip. UL, CSA, and CE approved
Small pressure relief "pop" valve minimizes glove "fightback."
---
PLAS-LABS, INC, USA
PCR WorkStations
PCR chamber has been designed to help improve the accuracy of P.C.R.* and general Tissue Culture procedures. The chance for air-borne contamination during D.N.A. sequencing is greatly reduced. The chamber is a "still air enclosure" which contains both fluorescent and U.V. germicidal lamps. The U.V. system is rated at 254 nm and will decontaminate all surfaces of the interior. The lamp should be activated 15 minutes prior to and 15 minutes after planned use.