Questron Technologies Corp., Canada
Block Digestion System
QBlock Wireless- Block Digestion System
QBlock series provides wide selection to choose appropriate hot block to increase efficiency of digestion and through put. Teflon coated graphite block and enclosure provides ability to produce contamination free results
Features :
Wireless control of up to 8 QBlocks
Compatible with existing digestion blocks
Removes electronics from corrosive environment
Large color touch screen
Remote control up to 50 meters
Overheat prevention safety feature
Stores numerous recipes and heating profiles
Built-in NIST traceable calibration
PC connectivity for digestion data archiving
Increases laboratory safety
Saves valuable fume hood laboratory space
---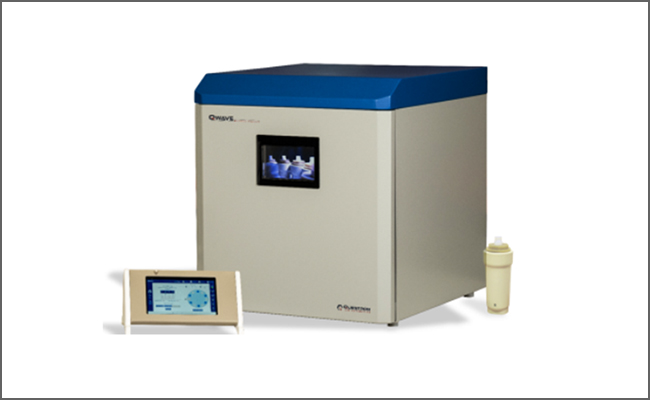 Questron Technologies Corp., Canada
Microwave Digestion System Q-Wave
QWAVE 1000 Closed-vessel microwave decomposition offers the following benefi ts:
The environment in which the reaction takes place is clean, closed, and controlled
The amount of acid is diminished to stoichiometric quantities of the reagents, reducing contamination to a minimum
ppb, ppt level sensitivities
Shorter reaction time and improved digestion due to higher temperatures (far above the normal boiling point of the reagents)
No loss of volatile elements.
Features :
Time-to-Power and time to temparature control mode.
Easy operation using user-friendly control panel with tactile membrane switches
Best suited for proven digestion methods
Pressure monitoring for each vessel for safe operation
Stand alone operations
Selection of digestion vessels to cover wide spectrum of applications
Rotating antenna & carousel, and unique cavity design ensures uniform microwave distribution
150 CFM exhaust for fumes removal and vessels cooling
Corrosion-proof PTFE-coated reinforced cavity
Ideal for digestion, extraction, evaporation and synthesis
---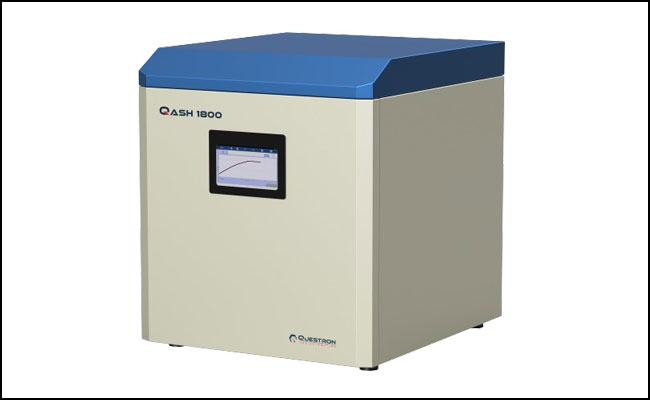 Questron Technologies Corp., Canada
Express Microwave Ashing System-QAsh1800
QAsh achieves fast ashing times by combining in-situ airflow with a microwave. It has a large floor area to accommodate a large number of samples and is suitable for polymers, oils, food, pulp, sludge, and many other sample types. p>
Features :
eduction in ashing times by up to 90%.
Produces consistent ashing.
Provides safe work environment.
Saves lab space with a small footprint.
Documentation of ashing processes.
A choice for crucible material.
9 – 50 mL crucibles in one batch.
Attains 1,000°C in 25 minutes.
1800 watts of microwave energy.
Temperature homogeneity; 1,000°C to 1,200°C.
Multistep heating of samples.
Convenient LED Bar temperature display.
---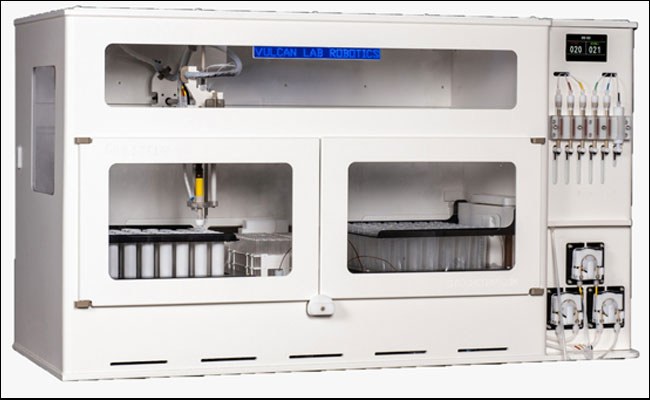 Questron Technologies Corp., Canada
Hot Block Automated Digestion System- Vulcan
The Vulcan Platform is fully modular Laboratory Automation Solution capable of up to 6 automated steps in nearly any lan sample Digestion process.
Features :
Freedom from manual acid handling and exposure to acid fumes
Substantial cost savings in sample analysis expenditure
Contamination free environment for trace level sample preparation
Overcomes inconsistencies and uncertainties introduced by repetitive and tedious process
Increase in laboratory throughput
Saves prime lab space with smart inbuilt fume hood
Documentation of sample preparation processes
Effective use of skilled manpower through unattended operations
Provides safe and healthy work environment
Processing of 84 samples in 50 ml vials
Automatic and precise addition of corrosive acids, reagents and internal standard
Multistep heating of hot blocks.
Makeup volume at the end of digestion
Stirring of sample during the process
Cooling digestion vials between reagent additions
Transferring and diluting samples to autosampler racks
Can handle two digestion recipes at same time
---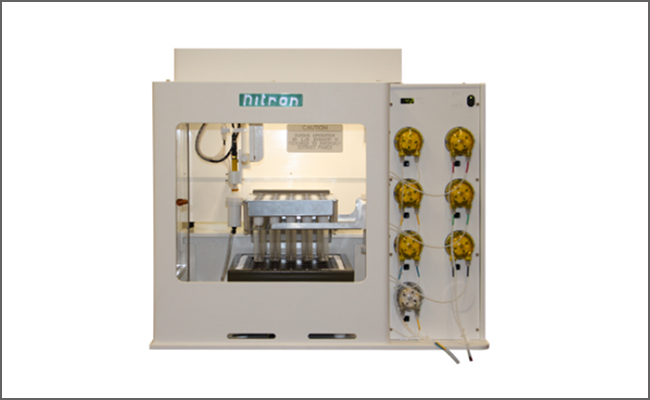 Questron Technologies Corp., Canada
Automated Sample Digestion System- Nitron
Nitron does High-Temperature Automated Sample Digestion and Dispensing for laboratories. It is designed for routine and customizable methods that require heating up to 400°C. Hence it is ideal for automating applications involving acids like sulphuric and phosphoric acid. The six independent reagent lines reduce priming operations, thus increasing dispensing speed and minimizing cross contamination. Nitron has an all-plastic fume hood, thus providing a safe environment by reducing user contact with harmful acid fumes and hot samples.
---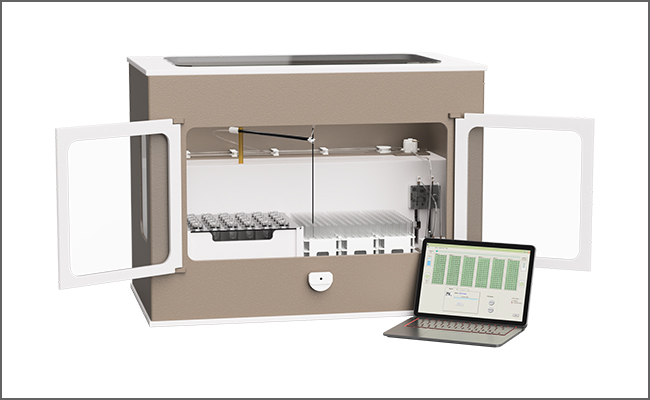 Questron Technologies Corp., Canada
Automated Dilution System – QPrep
The QPrep Automated Workstation provides an integrated solution for precise sample dilutions, transfers, dispensing and other liquid handling functions for the laboratory. The system is designed to handle precise reagent delivery for a large number of samples in multiple rack configurations. Automating the handling of expensive and hazardous chemicals helps to increase the profitability and safety of the laboratory.
Features :
Spikes sample with internal standards
Performs Multiple Dilutions
Prepares calibration and QC standards
Serial dilutions and aliquot transfers
Consistent and precise reagent addition
Adds reagents consistently